Chapter 148 met on the morning of Saturday January 18. Despite thick snow showers, the mart was well stocked, and the meeting well and happily attended.
Items spotted at the mart included a rather unusual shelf clock ca. 1850 produced by one of Elias Ingraham's earliest independent firms. Another item exhibited (although not offered for sale) was a Seth Thomas Model No. 10 "Railroad Special" pocket watch, dating ca. 1900. Inexpensive 7j watches like this one, bearing no serial number, were often given in the early 20th century as premiums for selling lineament, magazine subscriptions, etc., and are therefore of much interest to collectors.
Members were pleased to learn that George Bruno is home and recovering nicely from a recent hip fracture.
Sadly we learned that member Harry Blair (NJ), who had been ailing for some time, passed away recently. An electrcal engineer by trade, Harry was a graduate of Stevens Institute of Technology in Hoboken, and received an MBA from Rutgers University. He went on to become an expert watch repairer and the author of several Bulletin articles, including one on the Bulova Accutron watch; one on the life and career of the great watchmaker Henry Fried; and one on the great watchmaker George Daniels, both of whom Harry knew quite well. Harry also assisted in leading a number of horological tours to Europe. Chapter members recall wonderful talks Harry gave us in years past, most recently on the subjects of antique watch making tools and on the Bulova Accutron. He is survived by his wife Peggy, and his presence is sorely missed!
In addition to Harry Blair, the chapter mourned the loss of another member, James Storrow of Stormville, NY, who passed away in October. Following a career in theater stage management in NYC, James dedicated much of his time to restoring noteworthy tower clocks. The clocks were often owned by government and non-profit entities, so James had to produce numerous formal research, documentation, and progress reports, which he graciously did. James relished historical research, and was often accompanied on research trips by his friend, the distinguished art historian Don Saff.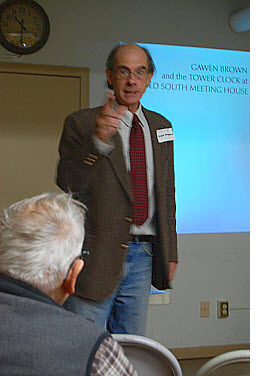 James was the driving force behind the restoration of an iron plate, brass-geared tower clock by R. Smith & Co., Bowery, NY, dating ca. 1840, owned by the famous U.S. Armory Museum, Springfield, MA.
He initiated and saw to completion the restoration of Boston's historic Old South Meetinghouse tower clock, made by Gawen Brown ca. 1760, and reunited the clock with an appropriate Paul Revere bell. James was also instrumental in restoring a 2-train brass movement tower clock made by Charles Fasoldt in 1871, one of only four tower clocks Fasoldt is known to have produced, and the only example to survive in its original tower, now part of the Ebenezer Baptist Church, Newburgh, NY. James is credited with restoring an 1890s E. Howard tower clock in Pine Plains, NY, and also an example by George Stevens, Ossining, NY, featuring an unusual Crane's patent walking escapement on its strike side. Recently, James coordinated the restoration of the William Bond & Son (Boston) observatory regulator ca. 1861, at Vassar College, Poughkeepsie, NY. The last days of James' life found him working on Vassar's William Bond & Son astronomical chronograph, missing several parts. Remarkably, James located the chronograph's original plans in Harvard University's archives. Chapter members Mel Smith and Aubrey Kinney (both of NY) served as core members of James' restoration teams.
We will never forget James and his work, all of which he credited to the NAWCC. Photo here of James Storrow was taken ca. 2009 giving a talk to our chapter on his team's restoration of the tower clock at Old South Meetinghouse in Boston.
Special thanks is due to Mel Smith for contributing much information for this writeup.
A happy and healthy New Year to all!