Connecticut
Chapter 148
NAWCC

Al Comen, Pres.
phone: 203-378-4323 Cheryl A. Comen, Treasurer
409A Montauk Lane
Stratford, CT 06614
ccomen4chap148@sbcglobal.net Mary Jane Dapkus, Secretary
NEXT MEETING - March 21, 2015
Edmond Town Hall, 45 Main Street, Newtown, CT, 8:30 AM. Table holders may set up at 8:00 AM. Please do not come before 8:30 if you do not have a table. Must be member of NAWCC (or guest) to attend. The usual refreshments of doughnuts, pastries, bagels, and beverages will be served.
Click here for directions.
Chapter 148 meets on the 3rd Saturday of odd months.
January, March, May, July, September and November
---
Meetings Past
January 17, 2015 Meeting Highlights
by Mary Jane Dapkus
A well-attended "cabin fever" Chapter 148 meeting took place on the frigid Saturday morning of January 17, 2015. Activities included mart, raffle, and silent auction. We were pleased to welcome several new members and guests.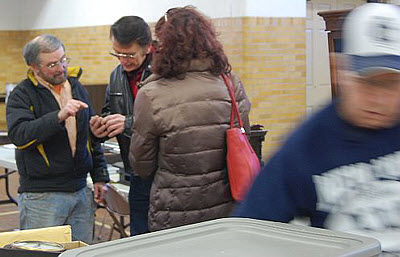 Chapter 148 members browse mart offerings at the January 2015 meeting.
A very large 8-day 1920s-vintage Waltham pocket watch with a "spot indicator" in a little window on the dial that shows red when the spring is wound down, went home with a pleased new owner. Additional items spotted at the mart included a black Chelsea 15-day military or engine room timepiece in a Bakelite case with what looked to be an original stand; a 20th c Smith's "Cricklewood N.W. 2" English ship's clock; two Florence Kroeber, New York City shelf clocks, ca. 1890s, French styled with boulle trim, both in good original condition; a miniature ogee shelf clock bearing the label of Ansonia Clock Co. with "The Highland Chase" decalcomania tablet; a large ogee shelf clock bearing the label of "E. Manross, Forestville, Ct." with a brass movement and "Merchants' Exchange, Phila.[delphia]" tablet; and a German two-weight regulator. In addition, a Birge, Peck & Co., Bristol, Ct. triple-decker shelf clock with faux marbled half-columns and original Fenn tablets found a new home.
Members sought and received help in identifying movements, and in proper repairing techniques for specific projects they are working on.
The very happiest, healthiest New Year to all!