Connecticut
Chapter 148
NAWCC

Al Comen, Pres.
phone: 203-378-4323 Cheryl A. Comen, Treasurer
409A Montauk Lane
Stratford, CT 06614
ccomen4chap148@sbcglobal.net Mary Jane Dapkus, Secretary
NEXT MEETING - July 16, 2016
Edmond Town Hall, 45 Main Street, Newtown, CT, 8:30 AM. Table holders may set up at 8:00 AM. Please do not come before 8:30 if you do not have a table. Must be member of NAWCC (or guest) to attend. The usual refreshments of doughnuts, pastries, bagels, and beverages will be served.
Chapter 148 meets on the 3rd Saturday of odd months.
January, March, May, July, September and November
---
Meetings Past
May 21, 2016 Meeting Highlights
by Mary Jane Dapkus
Members of Connecticut Chapter 148 convened on Saturday May 21, 2016, a glorious spring morning. Far from being tradition bound, our meetings are "tradition enhanced". For example, our traditional meeting place, the gymnasium of the historic Edmond Town Hall in Newtown, comprises a uniquely comfortable and congenial venue. In keeping with tradition, the May meeting featured mart, door prize drawings, and speaker. Numerous clocks, watches, and horological books went home with grateful new owners, and an assortment of donated copies of past issues of the American Clock & Watch Museum's Timepiece Journal were greeted by appreciative hands. But an even more uplifting experience was in store for chapter members in attendance.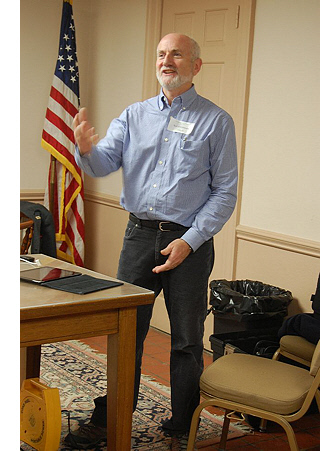 Our guest speaker was Bob Frishman, proprietor of Bell-Time Clocks of Andover, MA. The topic of his talk was the upcoming 2016 NAWCC Ward Francillon Time Symposium, of which Bob happens to be committee chair. The symposium is scheduled to be held on October 6-8, at the Winterthur Museum, Library, and Gardens in Wilmington, Delaware.
In addition to his work in clock repair and sales, it may be said that Bob has a deep commitment to the art, science, and history of clock making, but even this is an understatement. Indeed, he seems to have made it his life's mission to revitalize America's interest in the subject of horology. To that end, Bob has been working tirelessly as a writer, lecturer, and event organizer.
As many of our members are aware, Winterthur was the home of Henry F. du Pont (1880-1969), a horticulturist, collector, and descendant of a wealthy family of 19th century industrialists. This home is now a museum, which houses one of the most outstanding collections of American antiques in the United States. Winterthur is also a world-renowned center of education and scholarship.
As might be imagined, it took some diplomatic skill to forge an alliance with Winterthur for the purpose of holding such an event, but Bob met the challenge. He then went on to assemble a most remarkable lineup of lectures and lecturers for the symposium.
With topics ranging from the clocks of Rittenhouse, Dominy, Stretch, Claggett, Terry, and Willard, to very early watchmaking techniques, the symposium will feature much to delight anyone with an eye for masterpieces and ear for excellent scholarship. For further information on this extraordinary opportunity to experience Winterthur's superb horological collections (along with the scholars who can best explain what they are and what they mean) firsthand, details may be found at: www.clocksatwinterthur.com.
Many thanks are due to Bob not only for an outstanding presentation and all his hard work in organizing the symposium, but also for inspiring those who attended his talk to renew our efforts to give generously of our own time and unique talents to ensure that the institutions and interests we so enjoy and believe in have a future. To that end, Bob has set the bar extremely high!
March 19, 2016 Meeting Highlights
by Mary Jane Dapkus
Connecticut Chapter 148 met on Saturday morning, March 19. Over ninety members and friends attended. Our meeting featured a well stocked mart, raffle, and impromptu book discussion.
Members sought and received instruction on subjects as varied as setting up a cuckoo clock in a neighbor's home; repairing tiny ladies' watches; repairing a minute repeating watch with a push wind crown; and repairing the broken bottom pivot of a ship's chronometer balance staff.
Our book discussion centered around a few classic works pertaining to the science and history of time and time keeping. For example, The Universe and Dr. Einstein by Lincoln Barnett, 2nd revised ed. (NY: Bantam Books, 1980), offers a concise summary of Einstein's remarkable historic discoveries that forever changed the way time, and indeed, the entire universe, are conceptualized. Similarly, A Brief History of Time, by Stephen Hawking (NY: Bantam Books, 1988) offers amazing insights in a very readable format. Another current favorite is Ships, Clocks, and Stars: the Quest for Longitude, by Richard Dunn and Rebekah Higgitt (NY: Harper Design, 2014). Finally, early political and scientific aspects of the struggle for a way to measure longitude are well documented in: Longitude and Empire: How Captain Cook's Voyages Changed the World, by Brian Richardson (Vancouver, B.C.: UBC Press, 2005.)
At the Chapter's May meeting, Bob Frishman (MA) will present an overview of the upcoming NAWCC Symposium, to be held at the Winterthur Museum in Wilmington, Delaware, in October 2016. Stay tuned.
January 16, 2016 Meeting Highlights
by Mary Jane Dapkus
Connecticut Chapter 148 held its first meeting of the New Year on Saturday morning, January 16. A chilly rain fell as members converged on the historic Edmund Town Hall in Newtown. In light of years past, however, few if any complaints about the weather were either heard or entertained.
Our January meetings typically do not include a speaker. Instead, as might be expected, members enjoyed the opportunity to chat about the holidays, repair issues, recent auctions, and exhibits. In the latter category, we learned that a new exhibit of clocks and watches designed specifically for royal customers is about to, or has recently opened, at the Metropolitan Museum in New York City. Closer to home, "Ships, Clocks, and Stars", a loan exhibition from the National Maritime Museum at Greenwich, England, continues on display at Mystic Seaport in Mystic, CT, until March 28, 2016. This exhibit tells the story of a key piece of Britain's 18th century quest to rule the seas: the need for a reliable method to determine longitude, through a number of unique objects and artifacts. For those who may have missed it at Mystic, "Ships, Clocks, and Stars" will travel next to Sydney, Australia, the final stop on the exhibit's world tour.
Items spotted at the mart included a weight-driven 30-hr. time, strike and alarm, wood movement shelf clock by Wells Forbs, Bristol, New Hampshire, bearing label dated 1842. Also encountered was a loose tall clock dial signed "Bevan / 23 Argyle St. / Birkenhead"; a miniature bird-in-a-cage clock with alarm, ca. 1900, of German origin, with an 8-day movement, having two horizontal dials above the bird, one showing hours and one minutes; a "Tidey Furnace Clock", bearing the patent date of March 23, 1923 on its dial, part of a device used to close the flue of a coal-fired furnace; a "tape measure" clock; and a "Zig et Puce" (French comic book characters) animated and musical alarm clock dating to ca. 1940.
A very happy, healthy, New Year to all!