Connecticut
Chapter 148
NAWCC

Al Comen, Pres.
phone: 203-378-4323 Cheryl A. Comen, Treasurer
409A Montauk Lane
Stratford, CT 06614
ccomen4chap148@sbcglobal.net Mary Jane Dapkus, Secretary
NEXT MEETING - July 21, 2018
Edmond Town Hall, 45 Main Street, Newtown, CT, 8:30 AM. Table holders may set up at 8:00 AM. Please do not come before 8:30 if you do not have a table. Must be member of NAWCC (or guest) to attend. The usual refreshments of doughnuts, pastries, bagels, and beverages will be served.
Chapter 148 meets on the 3rd Saturday of odd months.
January, March, May, July, September and November
---
Meetings Past
May 19, 2017 Meeting Highlights
by Mary Jane Dapkus
Chapter 148 (CT) convened on the morning of Saturday, May 19, 2018. Members exchanged greetings over a well-stocked breakfast buffet, mart, and silent auction.
Chapter president Al Comen recognized a number of members in attendance who were recently awarded NAWCC long-time membership pins. A complete list is as follows: 10 years: Steve Traski, Alex Marshall, John Bieback; 20 years: Don Webb, Darren Dagnoli; 30 Years: Travis Engen, Scott Werner; 40 years: Joe Kaddis, Steve Molinelli. To them we extend hearty congratulations and best wishes!
At the American Clock & Watch Museum's mart table we learned that the Museum's beautiful new Scoundrels & Scandals exhibit (based in large part on recent, original primary source research), will run through 2018. On Sept. 30, Curator Tom Manning will speak on Terry family clocks at the Antiquarian & Landmark Society's Isham Terry House in Hartford, CT. On Oct. 24, Director of Interpretation Colleen Nicastro will give a talk on the tragic story of early 20th century radium clock and watch dial painters. (Contact the Museum for information.)
Our popular presentation series on unusual collectible clocks continued. This time, the topic was Seth Thomas (ST) clocks. Long-time collectors Jim Katzin and Al Comen joined David Ewbank and Tom Grimshaw, and contributor Jeff Bergman, to present great information and finds.

Here are a few the presentation's highlights: an extremely rare ST burglar alarm clock; a ST No. 10 movement for two dials (but winds only on one side); a very unusual ST No. 17 tower clock movement; a stunning ST violin clock in original condition; and a side-winding ST marine clock ca. 1884, with a cast brass case and porcelain dial.

Following this pretty thrilling lineup (as it were), presenter David Ewbank was not to be outdone. He brought a ST tambour clock and a statue clock that at first glance seemed ordinary. However, both shared a remarkable feature in common: they were ship's bell clocks!

---

Photo: Jim Katzin, co-presenter at Ch. 148's May 2018 meeting, with scarce Seth Thomas violin clock in the background. (Christopher Corveleyn photo.)
Many thanks are due to our presenters, our chapter officers, Christopher Corveleyn for taking the accompanying photograph, and to the host of volunteers who helped make our May meeting exciting and educational.
March 17, 2017 Meeting Highlights
by Mary Jane Dapkus
Over 90 Chapter 148 members and friends gathered at the old Edmond Town Hall on Saturday morning, March 17. Coffee and conversation flowed freely over an abundant mart.
The American Clock & Watch Museum has recently published the Spring 2018 issue of the Timepiece Journal, a benefit for its members. This issue, featuring an article about an Eli Terry, Porter Contract wooden movement tall case clock ca. 1809, recently acquired by the Hoffman Clock Museum of Newark, NY, includes tips on identifying Porter Contract movements and other items of interest. (Contact the Museum to obtain a copy.) If you haven't visited either the ACWM (and its new exhibit, entitled "Scoundrels & Scandals"), or the Hoffman Museum, both are well worth a trip.
The team of David Ewbank and Tom Grimshaw returned with another installment of their popular series on collectible clocks. To the delight of both new and seasoned collectors in the audience, this time the duo drew upon their remarkably deep store of knowledge and objects to present an array of rare and unusual miniatures.
Tom began by presenting a number of unusual cottage clocks. The smallest was a torsion pendulum example by S.B. Terry. Tom went on to show what is possibly the smallest ever wooden movement shelf clock: an example by Joseph R. Bill, Middletown, CT. Dating to ca. 1830, it had a time and alarm movement.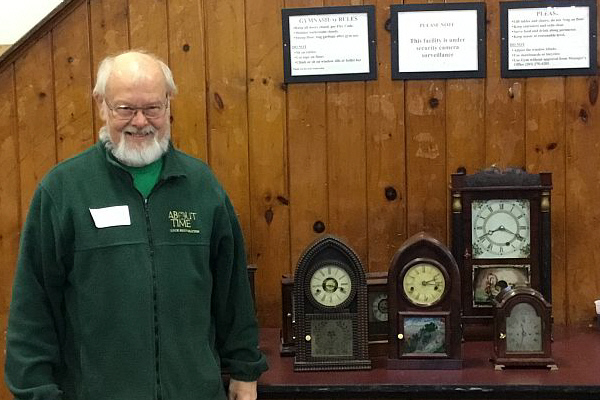 David Ewbank
David won the competition for the smallest miniature clock--and probably also the rarest. It was a carriage / anniversary clock with a year-running movement, featuring a fine suspension wire and tiny ball pendulum. Standing only about 4 inches tall, only two others are known.
Many thanks are due to Tom and David for their time and effort in bringing us another educational, and engaging presentation. Thanks are also due to our Chapter officers, Al and Cheryl Comen, and to all the other volunteers who help make our meetings a great pleasure to attend.