Connecticut
Chapter 148
NAWCC

Al Comen, Pres.
phone: 203-378-4323 Cheryl A. Comen, Treasurer
409A Montauk Lane
Stratford, CT 06614
ccomen4chap148@sbcglobal.net Mary Jane Dapkus, Secretary
NEXT MEETING - July 20, 2013
Edmond Town Hall, 45 Main Street, Newtown, CT, 8:30 AM. Table holders may set up at 8:00 AM. Please do not come before 8:30 if you do not have a table. Must be member of NAWCC (or guest) to attend. The usual refreshments of doughnuts, pastries, bagels, and beverages will be served.
Chapter 148 meets on the 3rd Saturday of odd months.
2013: Sep. 21 & Nov. 16
* * *
---
Meetings Past
May 18, 2013 Meeting Highlights
by Mary Jane Dapkus
Chapter 148's May meeting took place on a glorious spring Saturday morning. Members chatted pleasantly while perusing mart offerings. Unusual items spotted included an early Waltham salesman's sample watch movement, and an early 20th c set of English chess timing clocks.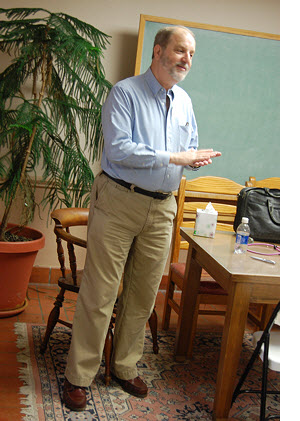 Our guest speaker was Dr. Howard Cohen, a friendly and energetic instructor of occupational health sciences at Yale University in "real life", perhaps better known to the NAWCC community as an avid collector of J.C. Brown clocks. Howard began by explaining that the best source of information on the subject of J.C. Brown, his career, and his clocks, remains the remarkable book by Kenneth D. Roberts and Snowden Taylor entitled: Jonathan Clark Brown and the Forestville Manufacturing Company (Fitzwilliam, NH: Ken Roberts Publishing Co.), 1988.
Jonathan Clark Brown (1807-1872) of Coventry, Ct. apprenticed as a cabinetmaker prior to his arrival in Bristol ca. 1832, as the shelf clock boom was well underway. Between 1832 and 1856, he was involved in no fewer than 14 different firms, most or all involving clocks. All of the firms with which Brown became identified earned solid reputations based on both the quality and attractiveness of their products.
Howard graciously conducted us on a tour of Brown's uncataloged clock making past, comprehensively illustrating J.C. Brown 8-day, 2-day, and 1-day movements, and associating the movements with Brown's attractive cases, by means of an extensive set of beautiful slides. Howard explained the characteristics of Brown's 8-day 1/2-rectangular time-only fusee movements in "wall acorns", monumental mahogany veneered Empire triple deckers with elaborately etched and frosted glasses, various rippled case styles, ripple beehives with rare fusee movements and fusee alarms, marine octagon clocks with amusing patented latches, scarce Forestville Hardware & Clock Co. card-labeled clocks, porcelains, and other odd examples with as much relish as he did Brown's interesting, albeit more common, ogees.
In listening to Howard describe his experiences in over 30 years of pursuing his passion for J.C. Brown clocks, members gained not only an appreciation for Brown's clocks, but also an insight into the ways in which collecting affords opportunities for personal growth. For example, despite all his experience as a collector, and his remarkable expertise in J.C. Brown clocks, Howard nonetheless retains a humble demeanor. Well aware that much is out there yet to be discovered, he concluded his talk by cautioning his audience never to speak in absolutes.
Our sincerest thanks to Howard, and to all the others who shared with us their hard-earned wisdom at May's chapter meeting!
* * *
March 16, 2013 Meeting Highlights
by Mary Jane Dapkus
Chapter 148 met on March 16, a grey and chilly Saturday morning, filled nevertheless with the promise of spring.
Browsing our mart, always an interesting and thought provoking experience, seemed especially so at the March meeting. Table holders offered a broad array of surprises ranging from fine antiques to exotic collectibles. Here is a very small sampling: a ca. late 19th century box clock with two dials and black glass door, labeled "Made by A.M. Johnson, New Haven, Conn." There was also a Gruen Persian Veri-Thin pocket watch; an "Aristo" Military Type A8 timer; a relatively old Bulova digital wristwatch in its original box; and an "Admiral Fitzroy" barometer. There was even an assortment of novelty erotic clocks (ca. late 19th - early 20th c?).
Thanks is due to Joe Kaddis, Bob Mills, George Bruno, Cheryl Comen, and David Follett for bringing in examples of unusual antique clocks and movements for study, discussion, and photography.
On a sad note, we learned that long time member and wood movement technical expert George Bruno had lost his wife of many years, Barbara, a few days ago, after a lengthy illness. Our memories of this woman, and of this couple together, in health, are very happy ones that cannot easily be erased.
Sadly, we also recently learned that long time chapter member Don Weber passed away at his home in November 2012 at age 88. A native of Toledo, Ohio, Don attended the U.S. Navy V12 program from 1944 to 1946. Later he graduated from the University of Toledo. He was a skilled wood worker, sailor, clock repairer, and former Board member of the American Clock & Watch Museum of Bristol, CT. Don is survived by his wife Nancy. The pleasure of his company and warmth of his smile will be sorely missed.
Planning and design phases for the American Clock & Watch Museum's new exhibit on Strickland vintage Art-Deco style watches are now well underway. The exhibit represents an exciting collaboration with a guest curator from far away (and sunny) Tampa, Florida, and will draw upon resources from both the Museum's collections and private ones.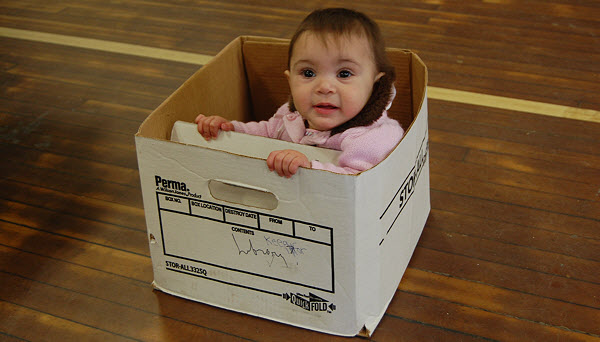 Ch. 148's newest member, the cheerful and gregarious Ruby!
Thanks to all who helped make our meeting an enjoyable and educational experience!
* * *
January 19, 2013 Meeting Highlights
by Mary Jane Dapkus
Chapter 148 met on the chilly Saturday morning of January 19. Members were greeted by the pleasant aroma of hot coffee, and the welcoming smiles of friendly faces. As they browsed the mart tables, they swapped items, work, holiday stories, and New Year news. As is chapter tradition, our January meeting did not include a speaker.
Among the technical topics discussed was a mysterious unidentified, incomplete, iron mechanism about which member Lydia Rufleth is interested in obtaining further information. One observer noted that, since there are only two pivot holes (gears missing), the object was probably not a "slave" movement in a tower clock system. Furthermore, an alarm or bell was likely attached to the end of the worm gear, and the mechanism was apparently wound by the protruding shaft. Was it part of a fire alarm? (See photo in last Chapter highlights; thoughts welcome.)
A lucky collector brought a lovely example of a first model Cheshire Watch Company pocket watch ca. 1885 to discuss with appreciative friends. Purchased nearly 40 years ago, this treasured item has gilt plates, a beveled crystal, excellent original dial, blued hands, and a four-digit serial number. The watch winds in only one direction, and is apparently installed in the factory's own nickel plated case, which the firm soon stopped making. The Cheshire Watch Co. is thought to have produced as few as 200 watches per day, which explains why they are seldom seen. In addition, we learned that the American Clock & Watch Museum has recently acquired a collection of documents related to the Cheshire Watch Co., the generous and thoughtful gift of a descendant of one of the firm's members.
Items spotted at the mart included a nice example of an antique 19th c French mechanical singing bird in cage, in unrestored condition (not running). Also spotted was an interesting Eastern Airlines clock ca. mid-20th c, showing time in North and South America in three zones including New York City (see photo below).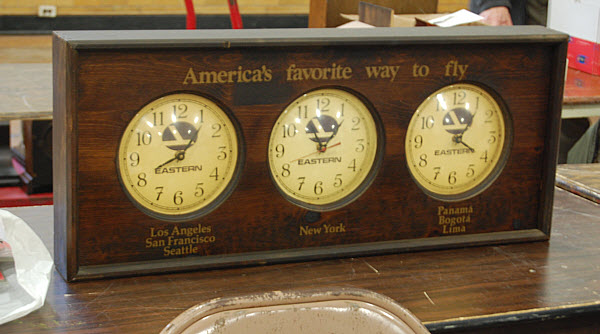 A happy and healthy New Year to all!
* * *
Meetings In 2012
Meetings In 2011
Meetings In 2010
Meetings In 2009
Meetings In 2008
Meetings In 2007
Meetings In 2006
Meetings In 2005
Meetings In 2004
Meetings In 2003
Meetings In 2002
Meetings In 2001
Meetings In 2000
Meetings In 1999