Connecticut
Chapter 148
NAWCC

Al Comen, Pres.
phone: 203-378-4323 Cheryl A. Comen, Treasurer
409A Montauk Lane
Stratford, CT 06614
ccomen4chap148@sbcglobal.net Mary Jane Dapkus, Secretary
NEXT MEETING - September 20, 2014
Edmond Town Hall, 45 Main Street, Newtown, CT, 8:30 AM. Table holders may set up at 8:00 AM. Please do not come before 8:30 if you do not have a table. Must be member of NAWCC (or guest) to attend. The usual refreshments of doughnuts, pastries, bagels, and beverages will be served.
"Scoundrels & Scandals; Early 19th Century CT Clockmakers and the Law". During the industry's heyday, Connecticut clockmakers' lives were shaped not only by the state's Puritan origins, but also by an archaic legal system that mirrored English common law. Join speaker Mary Jane Dapkus to explore some of their stories that never made it into the family genealogies and local history books, yet contribute much to an understanding of the clockmakers' work. Mary Jane has backgrounds in both science and history, and has spent many years in the environmental and museum professions. For the past 10 years, she has been an active member of the NAWCC's Research Committee. She is a certified researcher at the Connecticut State Library, and also serves as contributing editor of the American Clock & Watch Museum's renowned Timepiece Journal.
Click here for directions.
Chapter 148 meets on the 3rd Saturday of odd months.
January, March, May, July, September and November
---
Meetings Past
May 17, 2014 Meeting Highlights
by Mary Jane Dapkus
Following heavy rains overnight, Chapter 148 members made their way to Newtown's historic Edmund Town Hall in warm, much-welcomed sunshine. There they found hot coffee, a bountiful breakfast buffet, a well-stocked mart in full swing, and hearty greetings from old friends and new.
It was very nice indeed to find George Bruno, who had been ill for most of the winter, presiding over his mart table with characteristic elan, and trading quips with his frequent collaborator on restoration projects, David Follett. The table featured a great pillar and scroll shelf clock with a skeletonized wood movement made by George, with contributions from David. It was also very nice to catch a glimpse of George's personable and talented son Don, whose presence reminded at least one member of many pleasant meetings gone by.
The meeting adjourned to Plymouth and Thomaston [CT], where the historical societies of both towns hosted a "Clockmaker Festival", coinciding with the 275th anniversary of the Plymouth Congregational Church. Members were treated to a guided bus tour of local clockmaking sites, led by the American Clock & Watch Museum's capable Tom Vaughan. The tour began at the former Eli Terry, Jr. clock factory and water wheel site. Next we proceeded to Greystone on Hancock Brook, the site of the execution of Eli Terry's famous Porter Contract of 1806-1809, subsequently the location of clock factories of Thomas & Hoadley (1810-1813), and then Silas Hoadley. From there we traveled to the site of the Eli Terry / Eli Terry & Sons clock factory on the Naugatuck River, later the Henry Terry clock factory, and still later, the Plymouth Woolen Mill, with Tom pointing out several Terry family residence sites along the way.
From there we headed to the Plymouth Green, and the clock tower of the 1838 Plymouth Congregational meetinghouse. According to "Annals of an Old New England Church" by Marshall W. Leach (Brattleboro: VT Printing Co., 1939), the wood and brass tower clock was moved to the then new meetinghouse from the society's earlier (probably second) meetinghouse. The brass movement that powers the clock was likely made by Eli Terry. However, the Seth Thomas Clock Co. had repaired the clock and replaced some parts "on several occasions" after 1872 (see photos - click for larger view).
Many thanks to Tom Vaughan, Jerry Milne, and to the Plymouth and Thomaston Historical Societies for organizing and inviting our chapter to participate in this remarkable event.
March 15, 2014 Meeting Highlights
by Mary Jane Dapkus
Chapter 148 met on Saturday morning March 16, after a most persistent and challenging winter. Many a light-hearted greeting passed over the mart tables in shared hopes of the arrival of a long delayed spring.
Member Bob O'Conner is making a skeleton clock with a lyre-shaped movement. He spent most of the winter designing and building several tools needed for the project. Al Comen is repairing a Gilbert clock movement with a cracked pinion gear. Tom Manning is working on a 3-train Seth Thomas movement in which a previous workman apparently transposed one or more of the strike gears. George Bruno is making excellent progress recovering from a broken hip suffered before the holidays. He is busy drafting final plans for his conceptual model of the Porter Contract gear cutting engine based on newly published documentary evidence. Fifty year + NAWCC member Larry Byrne shared a pleasant story about how one of his five children, a son, developed lifelong interests at a very early age, while helping Larry service clocks for several local jewelry stores. Not only did the boy develop skill in running a small business that would serve him well in his future career as a professional dog trainer, he also still enjoys collecting and repairing antique clocks to the present day.
Beginning at 10AM on May 17, 2014 (the same day as the next scheduled Chapter 148 meeting), the historical societies of the towns of Plymouth and Thomaston, CT and Artzfest will jointly host a "Clockmakers Heritage Festival" in conjunction with the 275th anniversary of the dedication of the Plymouth Congregational Church. The Church houses an original Eli Terry tower clock, and tours of the clock are expected to be included as part of the day's scheduled events. Additional events planned include, from 11 to 12:30 A.M., a bus tour of clock making sites in Thomaston. (Parking for this event will be behind the Thomaston Opera House). From 1 to 2:30 PM, a bus tour of Plymouth clock making sites will be conducted (Parking will be available on the town green, or at Plymouth Center School, where a shuttle will be available to take folks to the green.) The celebration will also include food vendors, a Revolutionary War reenactment, musket firings, fife & drum corps, colonial craft demonstrations, etc. For further information interested persons should consult the Plymouth Historical Society's web site (plymouthhistoricalsociety.org). Anyone wishing to participate by having a table or performing clock appraisals is encouraged to contact Jerry Milne at milne1@juno.com, or by cell phone at 860-921-6118. No admission will be required, and our meeting is expected to adjurn in time for members to attend. Hope to see you there!
January 18, 2014 Meeting Highlights
by Mary Jane Dapkus
Chapter 148 met on the morning of Saturday January 18. Despite thick snow showers, the mart was well stocked, and the meeting well and happily attended.
Items spotted at the mart included a rather unusual shelf clock ca. 1850 produced by one of Elias Ingraham's earliest independent firms. Another item exhibited (although not offered for sale) was a Seth Thomas Model No. 10 "Railroad Special" pocket watch, dating ca. 1900. Inexpensive 7j watches like this one, bearing no serial number, were often given in the early 20th century as premiums for selling lineament, magazine subscriptions, etc., and are therefore of much interest to collectors.
Members were pleased to learn that George Bruno is home and recovering nicely from a recent hip fracture.
Sadly we learned that member Harry Blair (NJ), who had been ailing for some time, passed away recently. An electrcal engineer by trade, Harry was a graduate of Stevens Institute of Technology in Hoboken, and received an MBA from Rutgers University. He went on to become an expert watch repairer and the author of several Bulletin articles, including one on the Bulova Accutron watch; one on the life and career of the great watchmaker Henry Fried; and one on the great watchmaker George Daniels, both of whom Harry knew quite well. Harry also assisted in leading a number of horological tours to Europe. Chapter members recall wonderful talks Harry gave us in years past, most recently on the subjects of antique watch making tools and on the Bulova Accutron. He is survived by his wife Peggy, and his presence is sorely missed!
In addition to Harry Blair, the chapter mourned the loss of another member, James Storrow of Stormville, NY, who passed away in October. Following a career in theater stage management in NYC, James dedicated much of his time to restoring noteworthy tower clocks. The clocks were often owned by government and non-profit entities, so James had to produce numerous formal research, documentation, and progress reports, which he graciously did. James relished historical research, and was often accompanied on research trips by his friend, the distinguished art historian Don Saff.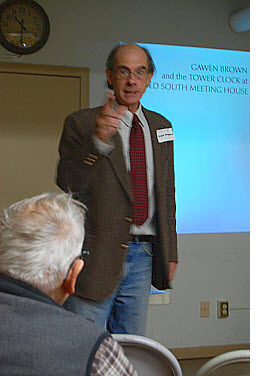 James was the driving force behind the restoration of an iron plate, brass-geared tower clock by R. Smith & Co., Bowery, NY, dating ca. 1840, owned by the famous U.S. Armory Museum, Springfield, MA.
He initiated and saw to completion the restoration of Boston's historic Old South Meetinghouse tower clock, made by Gawen Brown ca. 1760, and reunited the clock with an appropriate Paul Revere bell. James was also instrumental in restoring a 2-train brass movement tower clock made by Charles Fasoldt in 1871, one of only four tower clocks Fasoldt is known to have produced, and the only example to survive in its original tower, now part of the Ebenezer Baptist Church, Newburgh, NY. James is credited with restoring an 1890s E. Howard tower clock in Pine Plains, NY, and also an example by George Stevens, Ossining, NY, featuring an unusual Crane's patent walking escapement on its strike side. Recently, James coordinated the restoration of the William Bond & Son (Boston) observatory regulator ca. 1861, at Vassar College, Poughkeepsie, NY. The last days of James' life found him working on Vassar's William Bond & Son astronomical chronograph, missing several parts. Remarkably, James located the chronograph's original plans in Harvard University's archives. Chapter members Mel Smith and Aubrey Kinney (both of NY) served as core members of James' restoration teams.
We will never forget James and his work, all of which he credited to the NAWCC. Photo here of James Storrow was taken ca. 2009 giving a talk to our chapter on his team's restoration of the tower clock at Old South Meetinghouse in Boston.
Special thanks is due to Mel Smith for contributing much information for this writeup.
A happy and healthy New Year to all!
* * *
Meetings In 2013
Meetings In 2012
Meetings In 2011
Meetings In 2010
Meetings In 2009
Meetings In 2008
Meetings In 2007
Meetings In 2006
Meetings In 2005
Meetings In 2004
Meetings In 2003
Meetings In 2002
Meetings In 2001
Meetings In 2000
Meetings In 1999