Greater Massachusetts Chapter 87 NAWCC
Micah Tasker
President
e-mail:

Steve Murphy
Secretary
e-mail:

---
NEXT MEETING
Sunday, May 18, 2014
Spring Hill Suites
43 Newbury Street/Route 1N
Peabody, Mass
See Directions. Hotel's map page.
Call Spring Hill Suites at 978-535-5000 for cancellation information.

8:15 A.M. - PRE-REGISTRATION begins.

8:15 A.M. - WALK-IN REGISTRATION begins

8:30 A.M. - MART OPENS

12:00 P.M. - MART CLOSES

Must be a member of NAWCC to attend Mart, but you can bring a guest.

Mart Registration $3 ($5 after 5/15); Full table $6 ($8 after 5/15).

Make checks payable to Greater Mass Chapter No. 87, NAWCC
Please mail your check and registration to:
Steve Murphy, P.O. Box 308, North Eastham, MA 02651
President's Message
It has been two years and my term as President of Chapter #87 is coming to a close. I would like to thank the other officers and all of the members of Chapter #87 for all of the support that I have received. As elections will be held at our meeting this month, I would like to ask for volunteers to run for chapter office positions. Please remember that even though the time commitment is small for most positions we have had a challenge having people step forward to be involved. We have seen the effects of this in various chapters around the region where membership has declined and shows have become smaller… I do NOT want to see Chapter # 87 in that situation. I think that the Northeast has a great history of horology from Waltham, Howard, and Hampden watches to the great clock factories of CT and Chelsea Clock in our back yard. We have had some great ideas to move forward in the last two years… lets use that as a base line with your help and grow our chapter and shows to be the envy of the entire NAWCC!
NEXT SCHEDULED MEETINGS
Chapter #87 meets on the 3rd Sunday of the odd months excluding July.
2014: Sept. 21st, Nov. 16th.
---
Meetings Past
March 17, 2013
Holiday Inn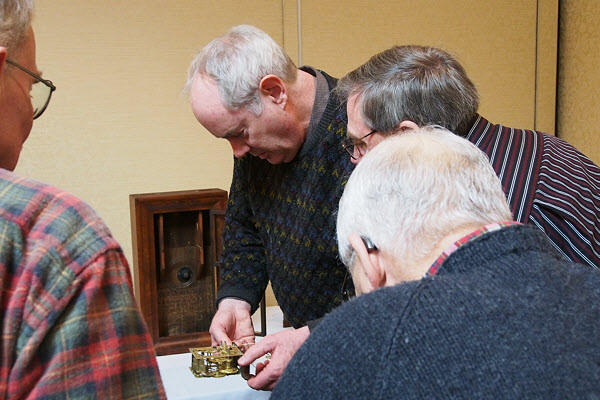 John Fitzwilliam in Look What I Found!
* * *
January 20, 2012
Spring Hill Suites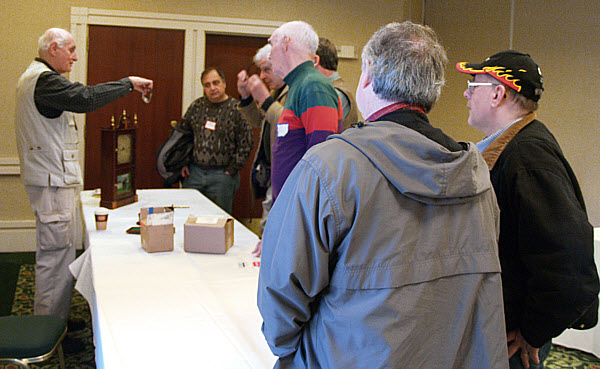 Dan Haff in Look What I Found!
* * *
Have you visited NAWCC's home page.

---

The right to download and store or output the articles in Price-Less Ads is granted to users for their personal use only. Any other reproduction, by any means - mechanical or electronic - without the express written permission of Price-Less Ads is strictly prohibited.
Copyright © 1996 - 2014 Price-Less AdsTM. All rights reserved.
For technical problems with this site please write to